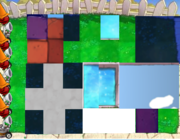 ZomBotany Fields is an area in PvZ1, it features ZomBotany zombies outside of the minigames ZomBotany 1 and 2. When you unlock it first time, you'll get a note from the Zombies. You have 15 levels in this area, you also get ZomBotany zombiess' Almanac Entry, they'll be added in this vaction.
The Note:
Edit
Iv u reed thiz, u wil get to know zombotany zombies bettur
n' ur lawn wil be megamix'd
The 10th level note:
Edit
Hello,
we are launching a Hugh attack of ZomBotanies to your field, pls give us our brainz or you'll be our juicy drink
Sincerely, the ZomBotaniez.
The 15th level note:
Edit
Brainz,
I am giz and I want to eat your plants because you hack the game, pls look out when we eat your brains
Because I am the strongest ZomBotany zombies
Sincerely, GiZ.